Profile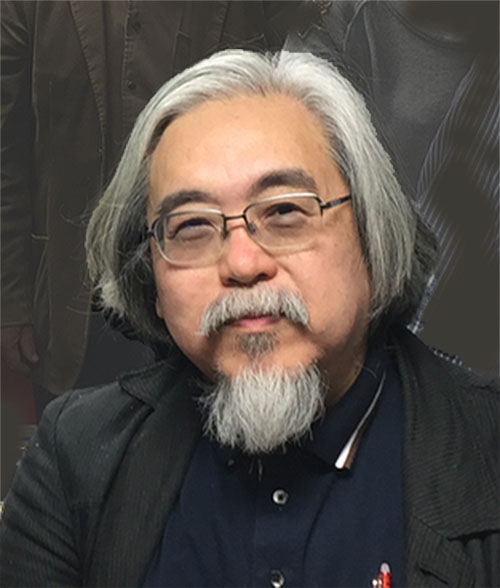 YOSHIMATSU,Takashi was born in Tokyo in 1953, and studied at Keio University (Department of Technology). He taught himself composition, joining a jazz and rock group, although he has studied under Teizo Matsumura for a short while.

He argues "new liricism" and objects to unmusical "modern music". He has published many works. He made his debut with "Threnody to Toki" in 1981. Since then, he presented 6 symphonies, 10 Concertos, and many orchestra pieces. Other works include many stage works ,a series of chamber music related with birds, piano and guitar works, and some works for japanese traditional instruments.

Many of his works are recorded on CD, including "The Age of Birds / Works by Takashi Yoshimatsu" (Camerata Tokyo). And since 1998, he is "composer-in-residence" of CHANDOS.

As well as composing, he does a lot of writing, including article for publications such as Music review and Essays. and published some books.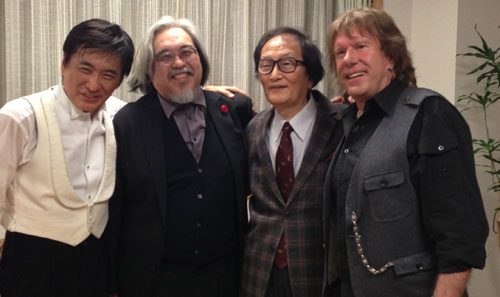 Sachio FUJIOKA(cond) ,Takashi YOSHIMATSU, Isao TOMITA, Keith EMERSON.
---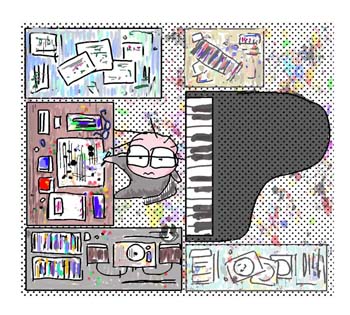 MANAGEMENT------------------------------



Please Contact
JAPAN ARTS
for various inquiries about T.Yoshimatsu
...Informations, Commissions, Scores, Rental parts,
Performances, Recordings,etc
Japan Arts Corporation
http://www.japanarts.co.jp/
TEL : +81-3-3499-8091
FAX : +81-3-3499-8092
2-1-6, Shibuya-ku, Tokyo, 150-8905,Japan

Japan Arts Corporation --- MAIL
---

 http://www.chandos-records.com/
Chandos Records Ltd,
Chandos House,Commerce Way,Colchester, Essex,CO2 8HQ,UK
1.Symphony no.2 "At Terra"etc
(1996)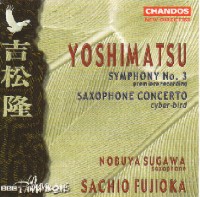 ........Chandos*CHAN-9438
2.Memo Flora
(1998)
........Chandos*CHAN-9652
3.Symphony no.3 , Cyber Bird Concerto
(1999)
........Chandos*CHAN-9737
4.Kamui-Chikap Symphony
(2000)
........Chandos*CHAN-9838
5.Symphony no.4,Trombone Concerto
(2001)
........Chandos*CHAN-9960
6.Symphony no.5,etc
(2003)
........Chandos *CHAN-10070
7.Cello Concerto"Centaurus Unit",etc
(2004)
........Chandos *CHAN-10202
---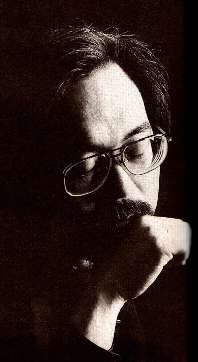 Links --- Publisher etc
ASKS.orchestra
score : Symphony no.3/no.4/no.5/no.6
saxophone concerto, piano concerto, cello concerto, marimba concerto
Atom Hearts Club Quartet, White Landscape, Rainbow colored mobile etc

Ongaku no Tomo Edition
Threnody to Toki, The Age of Birds,Guitar Concerto
Digital Bird Suite, 4 pieces in Bird Shape, RandomBird Variations
Piano Works:Pleiades Dances I~IX, Works for piano left hand etc

ZEN-ON
Symphony no.1/no.2

Gendai Guitar
guitar works:Tender toys, water colred scalor etc

Camerata Tokyo
CD : Orchestra Works "The Age of Birds" "Orion Machine"
Works for Japanese Instruments, Piano Works etc

DENON
CD : TARKUS"classic meets Rock", Symphony no.6 & Marimba Concerto
Sound Track "Taira-no-Kiyomori" etc
---